6 Montessori Tips on How to Dress Your Baby
Our friends at Monti Kids share their go-to tips for dressing your baby.
This post is written by our friends at Monti Kids. 
Clothing is an important aspect of the Montessori method because it is critical for encouraging independence in your child. And the smallest changes can make such a difference! The purpose of clothing is to protect your child, help them adapt to their new environment (outside of the womb), aid their movements, and support them as they rapidly grow. Here are some of our go-to Montessori tips for dressing your baby.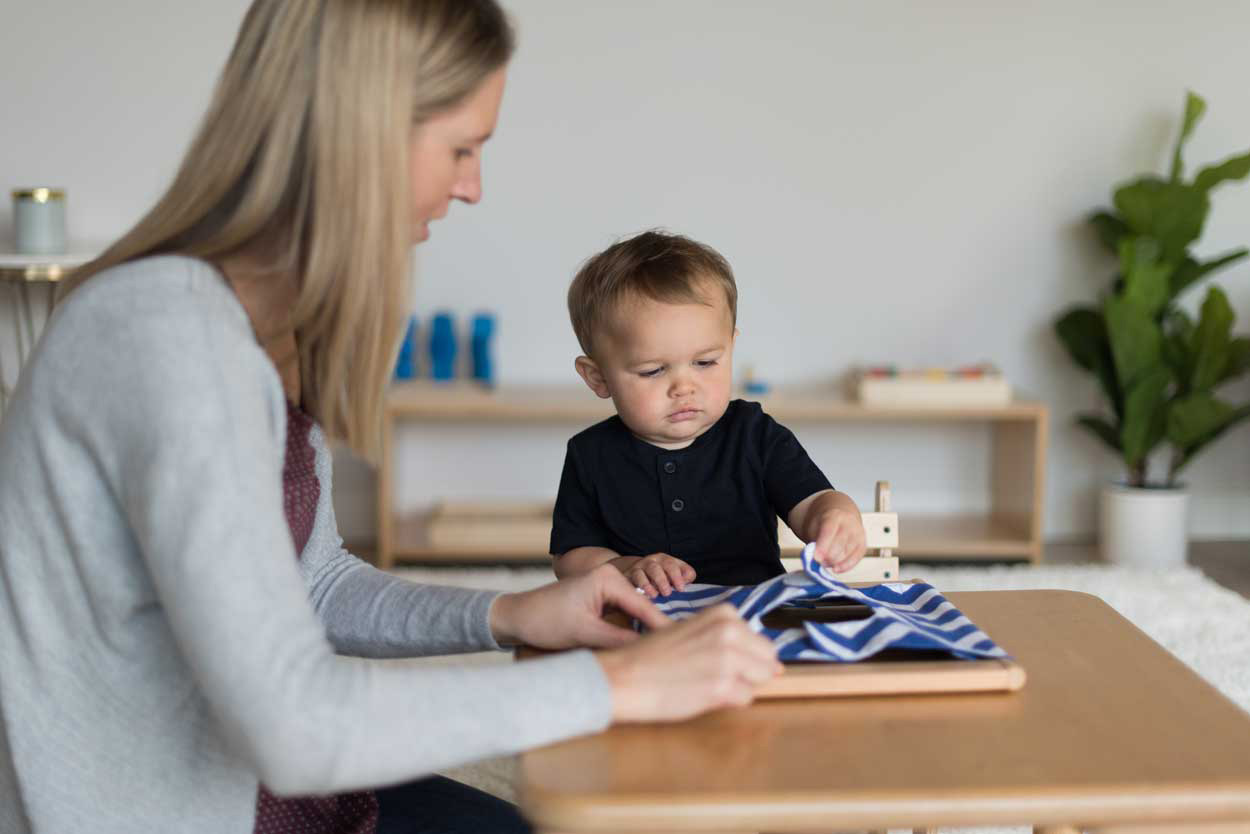 1. Provide opportunities for buttoning.
When your baby turns about four-months-old (yes, even this young!), you can begin to model buttoning for them, explaining the steps out loud as you do. Your child will perceive all the ways in which the buttons are manipulated, which will help them learn how to do it themselves later on. When your child begins to sit independently, invite them to observe and learn with you. Try to find buttoned shirts that open in the front or on the shoulders to make this process accessible to your little one. Around age two, they will really start to button on their own.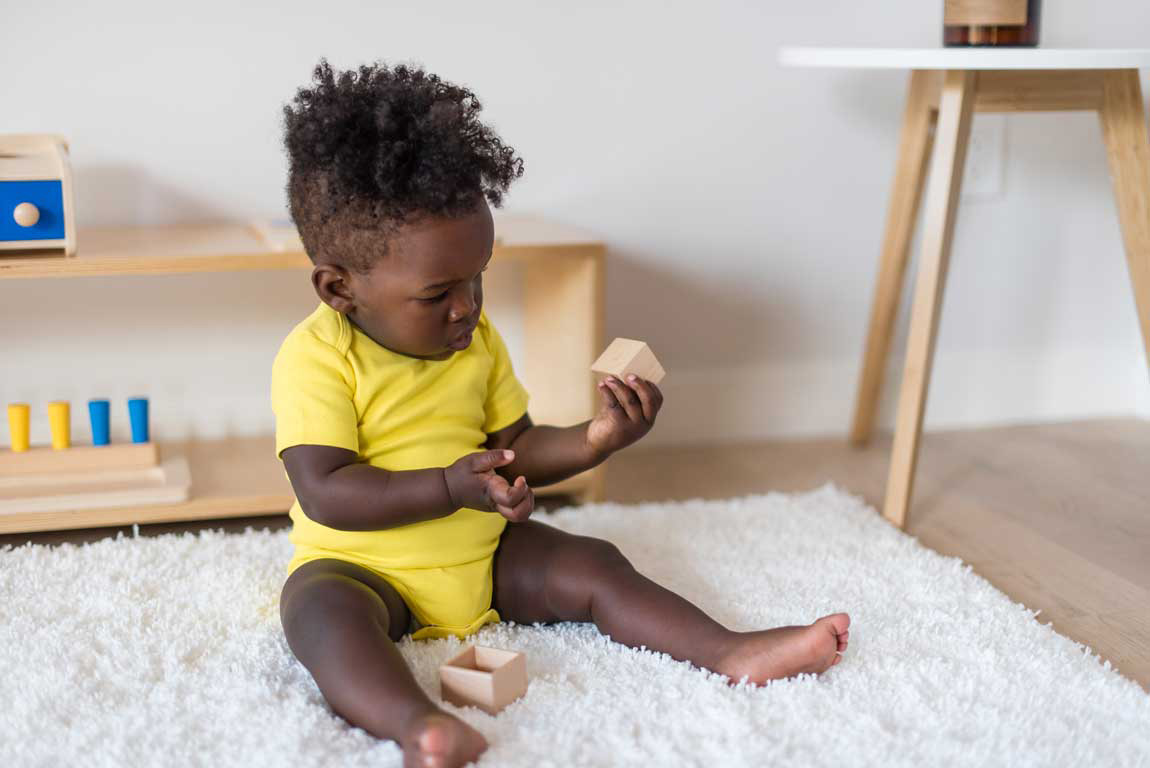 2. Prioritize freedom of movement (and comfort, too!).
Find clothing with comfortable and forgiving fabrics and elastics, like jersey fabric. Choose sizes that don't drown your little one in fabric or cut off their circulation. Be mindful of waistlines that are tight around the stomach. Clothes that are light, especially around the arms and legs, enable movement and exploration. Find undershirts or t-shirts with loose collars. Clothing that is comfortable and simple to handle supports your child's mobility and development of independence. It also facilitates toilet learning because flexible waistbands allow pants to be pulled up and down more easily.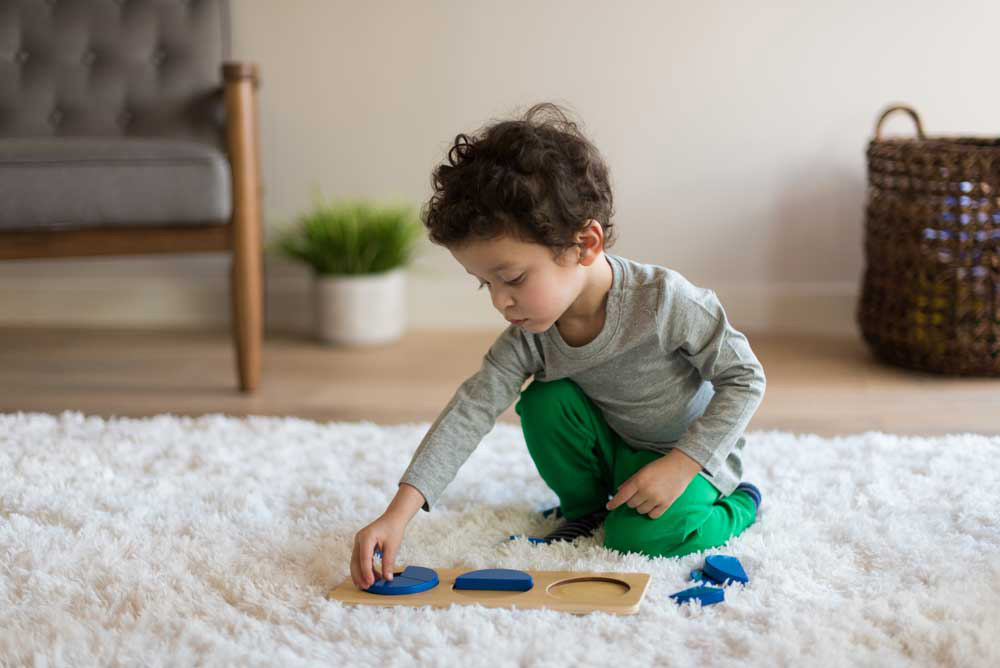 3. Be patient as your little one practices.
Give your child ample time to go through the mental process of dressing and undressing on their own and undistracted. Rather than correcting them, try to offer opportunities to practice. The first step is to encourage them to dress independently. So breathe through it if your child's shorts are on backwards or if their shoes are on the wrong feet! This too shall pass. If it is a big problem, or something that puts them at risk, ask them if their feet feel funny (often they will if shoes are on the wrong feet). If they say yes, invite them to switch them. When you support independence rather than correcting your child, it will help build their confidence and persistence!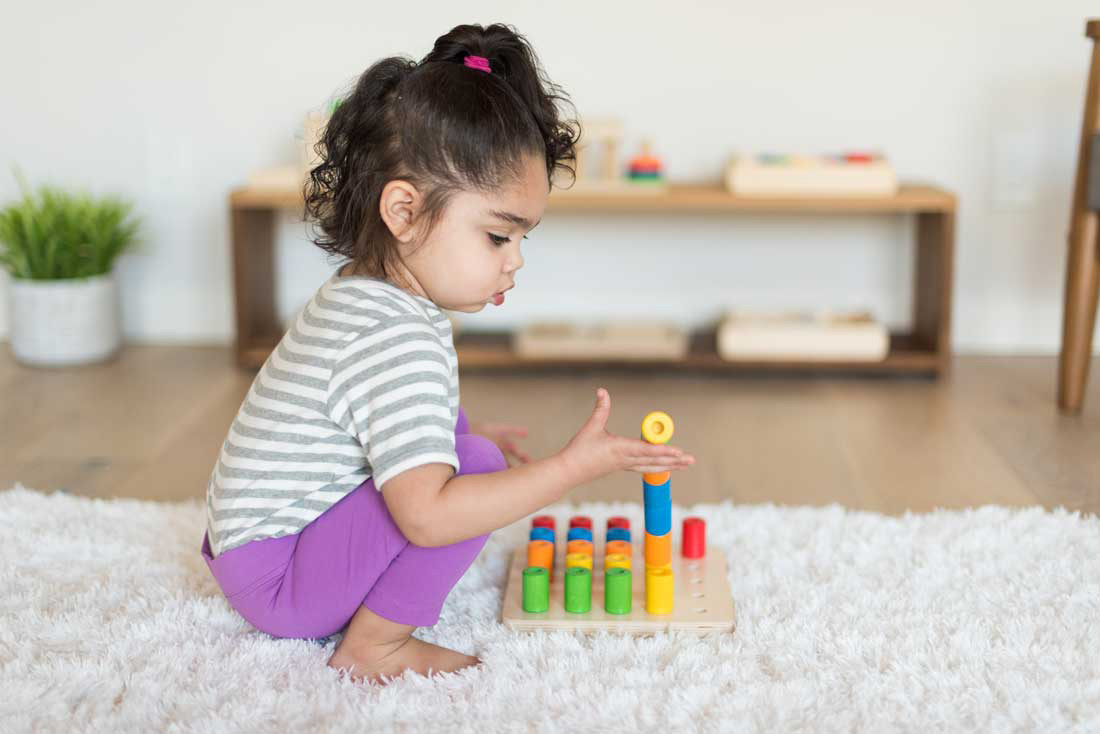 4. Free the feet!
Make sure to leave your child's feet free whenever possible and safe. This allows more sensory exploration through the feet (a wood floor feels different from a shag carpet!), a nerve center of the body, and provides traction on indoor surfaces where socks might be slippery. Mittens and socks are great for warmth, but interfere with the way your little one gets to experience the world around them.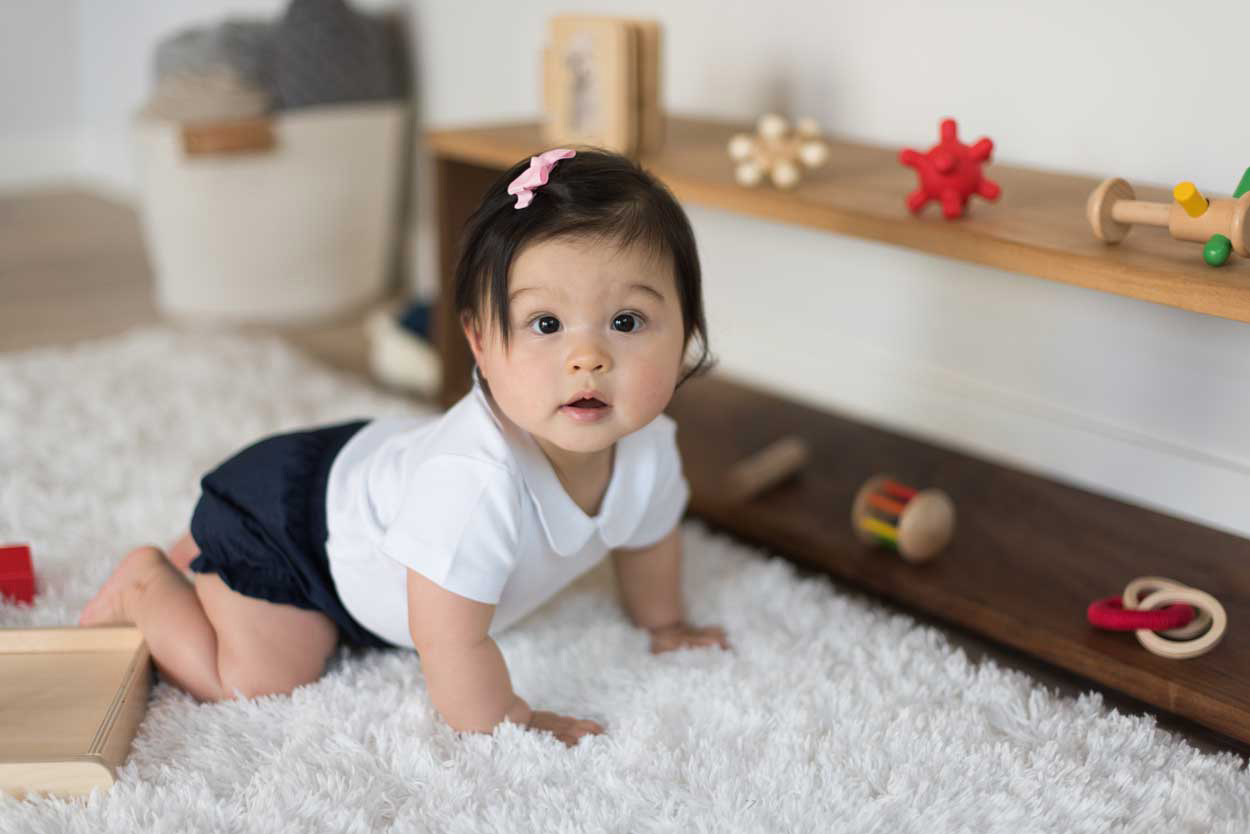 5. Find bottoms that encourage crawling.
If your child is crawling, shorts are preferable to pants because they allow your little one to move around more freely and experience the different textures on the floor or rug. Try to avoid skirts and dresses for girls as they can cause difficulty walking and crawling. Babysuits are also great when your little one is learning to crawl because they don't bunch up and prevent them from moving. Once your child masters crawling and begins standing, you can move to pants and shirts, which are important for toilet learning.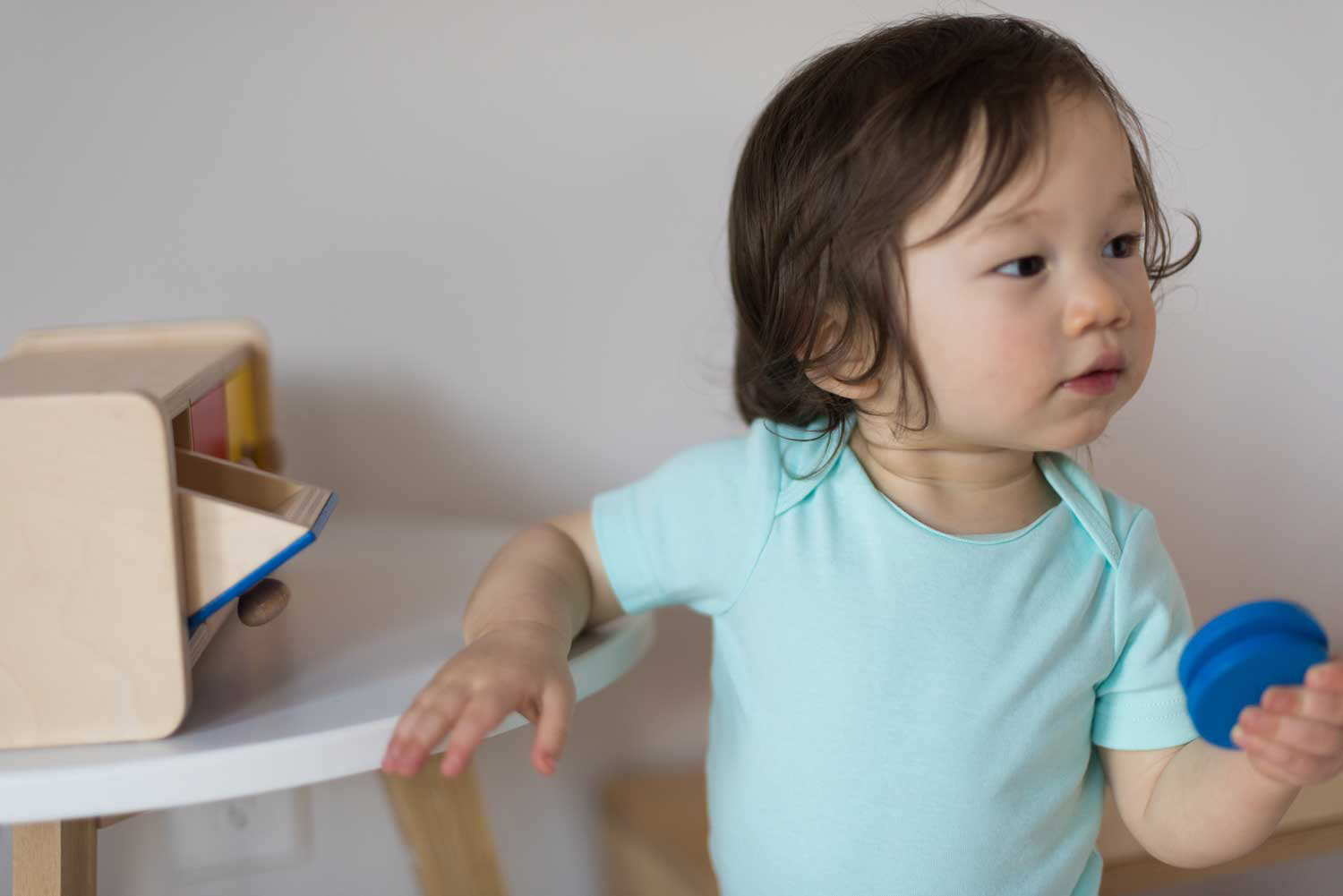 6. Remove labels.
Remove labels on all clothing, or find clothing with printed and non-abrasive labels. Tags can be itchy and might irritate your child's skin or distract them from observing and learning as they move around in their environment.
Thank you so much for sharing, Monti Kids! Reach out to blog@primary.com with your tried-and-true tips for dressing your little ones. 
Monti Kids empowers parents to fulfill and expand their child's potential from birth to three by giving access to the world-renowned Montessori curriculum. They provide customers with home deliveries of Montessori educational toys, tailored to their child's stage of development, and guide parents through the program using online video demos and research-backed guides created by early childhood experts.