A Month of Magic is Here!
31 days of activities to make your Halloween extra special.
Happy October, friends!
It's no surprise that Team Primary is chock full of Halloween enthusiasts (If you're new here, hi! Check out our DIY page!). But 2020 has proven itself to be spooky enough, and we recognize that your holiday might feel a little different this year. That's why we're here to make your month extra special...
Welcome to a Month of Magic — a 31-day series of crafts, recipes, and family activities to put more happy in your Halloween, curated and created by our Halloween team. (Yes, that's a real team.) Each day, you'll find a new, quick, and easy activity that can be done safely at home, from zombie murals to Zoom charades. Download our calendar here, and be sure to check our blog every day for specific how-tos, downloadable templates, and more. 
So here's to making magic, no matter what this time brings, or what our regular traditions look like. Wishing you a happy Halloween month ahead!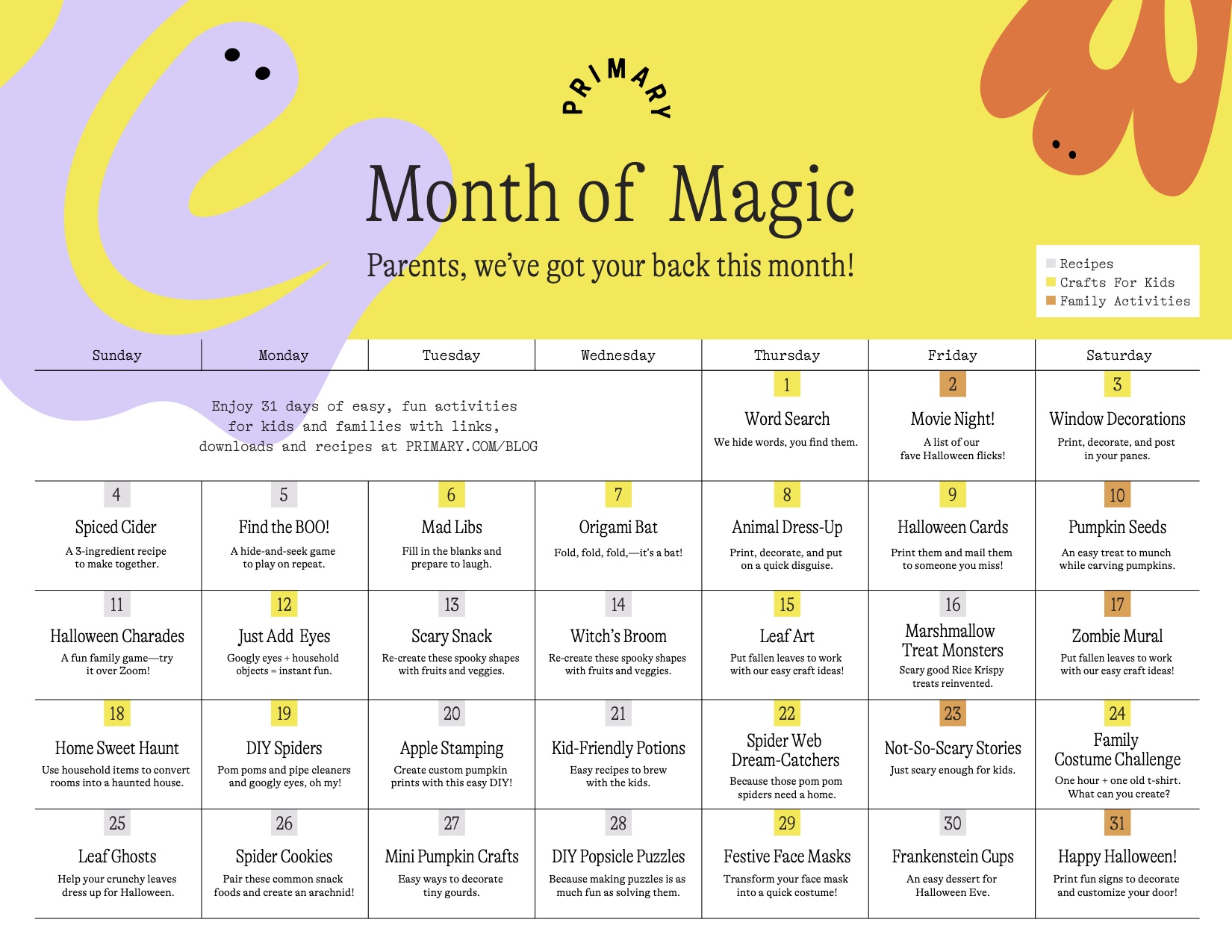 Day 1: Autumn Word Search
Day 2: Halloween Movies List
Day 3: Spooky Window Decorations
Day 4: Easy Spiced Cider Recipe
Day 5: Find the Boo!
Day 6: Word-Play Printable Game
Day 7: Easy DIY Origami Bats
Day 8: Animal Dress-Up Craft
Day 9: Halloween Greeting Cards
Day 10: Carving Pumpkins + Roasting Seeds
Day 11: Spooky Charades
Day 12: Googly Eyes Everywhere
Day 13: Simple Scary Snacks
Day 14 : Magic Broomstick Craft
Day 15: Rainbow Leaf Art
Day 16: Monster Rice Krispies Treats
Day 17: Magic: Zombie Mural Craft
Day 18: Make Your Own Haunted House
Day 19: Spooky Spiders Craft
Day 20: Fun Apple Stamping Craft
Day 21: Brewing Potions
Day 22: Decorative Spider Web
Day 23: Not-So-Scary Stories
Day 24: Family T-Shirt Costume Challenge
Day 25: Easy Leaf Ghosts Craft
Day 26: Yummy Spider Oreos
Day 27: Paint Mini Pumpkins
Day 28: DIY Popsicle Stick Puzzles
Day 29: Festive Face Masks
P.S. Need costume help? Visit our DIY page for hundreds of costume ideas or contact our concierge for advice. And don't forget to enter our annual Costume Contest for a chance to win a year of Primary! 
P.P.S. Up your Halloween game and wear some magic all month long. Shop limited-edition Halloween PJs and prints here!