Image: @primarydotcom
Ash from Pokemon
Master this costume idea in a few simple steps.
Has instructions

Make together

No-sew
Materials
One white kids top
One gray kids bottom
White felt (1 sheet 9 x 12 inches)
Yellow felt (1 sheet 9 x 12 inches)
Light green felt (1 sheet 9 x 12 inches)
Red baseball hat
Green fingerless mittens
Seam ripper
Double sided fabric tape
Hot glue gun and sticks
Scissors
Instructions
For the hat:
Use a red baseball cap and cut a white rectangle from felt and fabric tape it to the brim. Cut a white upside down U shape and attach to the front of the cap with fabric tape.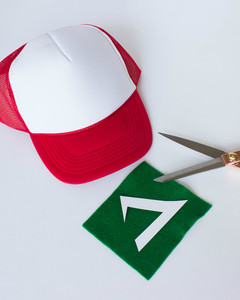 For the vest:
Use a seam ripper to carefully cut the arm seams of the hoodie off to create the vest. Cut two thin yellow strips to fit the pocket openings and attach with fabric tape. Cut two small yellow circles and attach to either side of the zipper opening under the collar of the hoodie.

* For the gloves:**
Use green fingerless mitts, or if you can't find it, cut the fingers off regular green gloves. Cut two wide strips of light green felt and glue around the wrist edge of each glove.
Share & Save